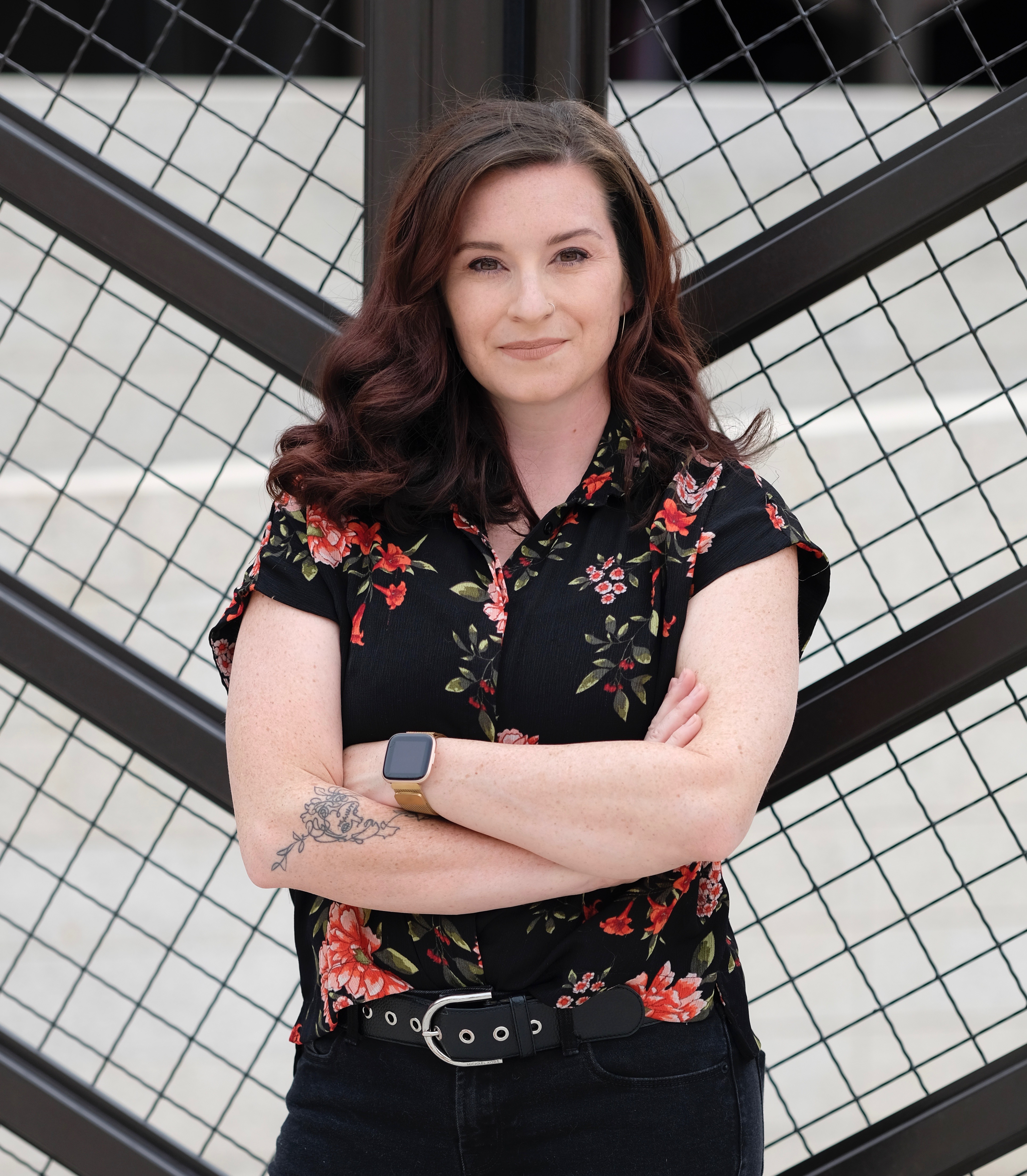 Caitlyn Herzlinger (She/Her/Hers)
Caitlyn Herzlinger is a certified teacher with the Society of American Fight Directors (SAFD) as well as a certified Yoga Teacher and the Assistant Professor of Movement and Acting at the University of Southern Mississippi. Her specialized training in stage combat has given her the opportunity to teach all over the country, in states including; New York, Illinois, California, Louisiana, Florida, Minnesota, Wisconsin and now Mississippi. Formerly, she worked as an adjunct professor of theatre at Eureka College and was the owner of Summer Moon Yoga, a yoga studio located in Macomb, Illinois.
In addition to teaching, Caitlyn works as an actress, director and fight director. She has performed and directed numerous shows for children's theatres across the country including, The National Theatre for Children, CLIMB theatre, Prairie Fire Children's Theatre and Playground Drama Day Camp. Her fight direction has been seen on stage at The University of Southern Mississippi, Eureka College, Monmouth College, SUNY New Paltz, Western Illinois University and Horace Mann School. She recently appeared in and fight directed King Lear at the Center for Performing Arts in Rhinebeck, NY. Caitlyn was the assistant fight director for The Heart of Robinhood at The Hudson Valley Shakespeare Festival and Sweat at People's Light Theatre. This summer Caitlyn is Fight Directing and Intimacy Directing at the Utah Shakespeare Festival.
---
Skill Proficiency History
| Date | Weapon | Location | Grade |
| --- | --- | --- | --- |
| | | | |
| --- | --- | --- | --- |
| Jun 6, 2015 | Small Sword | Eureka, Illinois | Recommended Pass |
| | | | |
| --- | --- | --- | --- |
| Jan 16, 2015 | Rapier and Dagger | Macomb, Illinois | Recommended Pass |
| Jan 16, 2015 | Unarmed | Macomb, Illinois | Recommended Pass |
Western Illinois University
| | | | |
| --- | --- | --- | --- |
| Dec 16, 2014 | Knife | Macomb, Illinois | Recommended Pass |
| Apr 30, 2012 | Rapier and Dagger | Macomb, Illinois | Recommended Pass |
| Dec 11, 2010 | Single Sword | Macomb, Illinois | Recommended Pass |
| May 8, 2010 | Unarmed | Macomb, Illinois | Recommended Pass |
| Dec 11, 2008 | Unarmed | Macomb, Illinois | Recommended Pass |
Central Illinois Stage Combat Workshop
| | | | |
| --- | --- | --- | --- |
| Jun 7, 2013 | Broadsword | Eureka, Illinois | Recommended Pass |
| Jun 7, 2013 | Single Sword | Eureka, Illinois | Recommended Pass |
| Jun 7, 2013 | Broadsword and Shield | Eureka, Illinois | Recommended Pass |
| Jun 3, 2011 | Single Sword | Eureka, Illinois | Recommended Pass |
| Jun 3, 2011 | Broadsword and Shield | Eureka, Illinois | Recommended Pass |
| Jun 5, 2009 | Broadsword and Shield | Eureka, Illinois | Recommended Pass |
| Jun 5, 2009 | Small Sword | Eureka, Illinois | Basic Pass |
Central Illinois Stage Combat Workshop 2012
| | | | |
| --- | --- | --- | --- |
| Jun 3, 2012 | Broadsword | Eureka, Illinois | Recommended Pass |
| Jun 3, 2012 | Knife | Eureka, Illinois | Recommended Pass |
| Jun 3, 2012 | Unarmed | Eureka, Illinois | Recommended Pass |
| Jun 3, 2012 | Small Sword | Eureka, Illinois | Recommended Pass |
| Jun 3, 2012 | Quarterstaff | Eureka, Illinois | Recommended Pass |
| | | | |
| --- | --- | --- | --- |
| May 13, 2008 | Broadsword | Fredonia, New York | Basic Pass |