Theatrical Firearms Safety Instructors
The SAFD Theatrical Firearms Safety Course takes participants through extensive training in nomenclature, legal regulations governing theatrical firearms, practical experience in maintenance, safe handling practices and procedures for theatre and film, coordination of theatrically effective and safe performance techniques, and the opportunity to perform basic firearms combat sequences with fellow participants.
Theatrical Firearms Instructors are qualified individuals with extensive professional experience in the staging and handling of firearms for stage and film. They hold additional practical firearms credentials from such organizations as the National Rifle Association and have extensive experience in the hands-on instruction of blank-fire theatrical firearms.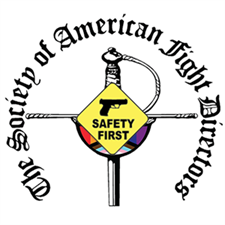 Statement regarding recent firearms safety issues
The Society of American Fight Directors would like to address the recent attention surrounding the discharge of a live round from a firearm on the set of "Rust" which led to the injury of Joel Souza and the death of Halyna Hutchins.
The primary focus of the SAFD is to provide the theatrical industry with training for the real-time safety of the working artist. This is why we have, since 1977, offered an extensive curriculum to train theatre artists in safe and effective techniques and protocols to create illusions of violence. The SAFD has spent more than a decade developing a Theatrical Firearms Safety course to better support and educate the professional theatrical community about firearms used in the entertainment industry. Whether a performer, crew member, designer, director, or producer, we believe everyone deserves access to the protocols for the handling of theatrical firearms so that everyone involved in a production can act in an informed way when there is a firearm present in the work.
There are many reputable organizations — national and local — that provide training in the safe handling of firearms. For those interested in more in-depth training, The SAFD Theatrical Firearms Safety Course has been offered routinely since 2010. It is a fourteen hour, two-day course with a balance of hands-on and classroom instruction, led by carefully-vetted Theatrical Firearms Safety Instructors. These courses are offered nationwide on a continuing basis.
The Society of American Fight Directors has been training artists in the entertainment industry in safe and effective use of theatrical props used in fight choreography and violence design for over 40 years. An integral part of that training involves the safe and knowledgeable use of theatrical firearms on stage and screen. The following is a core list of guidelines the Society would like all of our colleagues to keep in mind when presented with a theatrical firearm on stage or on set:
Treat all firearms as if they were loaded - and treat all simulated firearms as if they were real.
Never let the barrel (or other venting areas) point at anyone - or at anything you are not willing to destroy.
Keep your finger off the trigger until you are ready to fire.
Be certain of your target, your lines of fire, and what lies behind them.
Know how your prop operates - how it is loaded /unloaded, how it fires, where it vents, how far the gasses go, what will happen to any spent casings, and what to do if anything goes wrong.
We believe that good art is made when artists feel informed, prepared, and able to look out for their own safety and that of their colleagues. If you have any questions about the above principles of theatrical firearm handling, or would like more information about training opportunities in your area, please contact us at diversity
@safd.org.