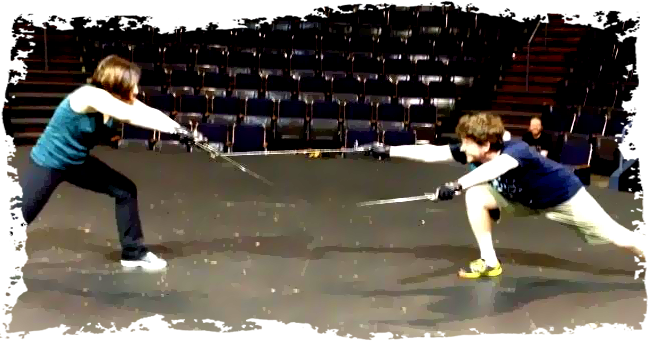 Advanced Actor Combatant Skills Proficiency Workshop
Introduction to Stage Combat  |  Actor Combatant Skills Proficiency  |  Advanced Actor Combatant Skills Proficiency
Advanced Actor Combatant Skills Proficiency is a specialized course for trained actor fighters that steps beyond the compulsory techniques required for the basic SPT and focuses on the dramatic application of stage combat.  Working with a small group of similarly experienced individuals, participants will study an assortment of advanced weapon styles and techniques, with scene work as an integral part of the training.
In addition to the core curriculum, the course may include (but is not limited to) classes in Movement (e.g. Alexander Technique, Feldenkrais), Shakespeare, Voice, Script Analysis, Stagecraft, and Film Fighting. Course completion will ensure not only a better understanding of stage violence, but also how it fits into the world of theatre. Students will emerge as stronger, more rounded theatre professionals.
The course is open to Actor/Combatants who are well versed in a wide variety of weapons styles used in film, television and live theatre, and offers Advanced Actor Fighters the opportunity to challenge and hone their skills at a highly sophisticated level. This is not a class about simply sword fighting; rather, it is actor training using the props of theatrical violence. Students will have the opportunity to renew their SAFD recognition in specific disciplines and test in additional weapon styles.
Students will be in class at least seven hours a day, six days a week.  Each day typically begins with an appropriate physical warm-up, followed by classes in two disciplines in the morning, two further disciplines each afternoon, and master classes and rehearsals in the evening. The long hours and intensity of this program require a considerable amount of discipline, commitment, flexibility and stamina from all participants. Swords, daggers and all other required theatrical weapons will be provided, in class, for each student. 
Tuition and Fees
Advanced Actor Combatant Skills Proficiency (AACSP)  -

| | |
| --- | --- |
| Tuition |  $ TBD |
| Payment due at Registration |  $ 300 |
| Payment total due by July 1st |  $ 2800 |
|   |   |
| Additions of Housing and Meals |   |
| Housing Cost |  $ 735 |
| Meal Plan |  $ 475 |

 
Tuition scholarships available for all SAFD members!
Admission Requirements:
Minimum age is 18 (must have completed high school).
Previous acting and stage combat experience is essential.
One (1) letter of recommendation.
Proof of current SAFD Actor/Combatant status or equivalent.
Photocopies of SPT certificates showing current proficiency in at least 3 of the 8 weapon styles recognized by the SAFD.
Picture and acting resume including a list of training (schools, degrees, other teachers).
Complete stage combat resume including instructors, training, performance, fight captain duties, etc.
Optional supporting documents: letters of recommendation, DVD of your stage combat skills, etc.
Applications from students with equivalent training and certification with similar stage combat organizations will also be accepted.
To Apply:
Potential students can register here
If you have questions about the application and admissions process, please contact the

 

NSCW Coordinator
For Additional Information: